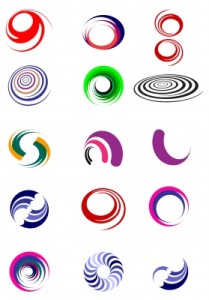 Although colors can mean a different number of things and pull various perceptions because of experiences, they do all sort of fall into a general category. They enhance or change the mood that someone may be in.
Certain colors are also the standard and accepted in various industries. So it's important to pay attention to how you brand yourself and place colors on your website, blog, newsletters, and signature, before you rub your customers the wrong way.
Check out this infographic from The Logo Company.
It's also important to pay attention to how many colors you use on your site. Have an appropriate color scheme consisting of no more than three colors. More than that and you just have a busy website.
 Green is an earthly color and helps people relax. It also is the color of money so people start to think of wealth and prosperity. Think BP, John Deere, Land Rover.
Blue is comforting and trusting. People instantly want to communicate. A very expressive color, look at Twitter, Facebook, and LinkedIn. Do you notice the pattern?
Red is an attention grabber. It creates a sense of urgency. It is a very emotional color. It's extremely popular in the food industry. Check out these popular logos: McDonalds, Coca Cola, and Nabisco. Lego and Nintendo also have red

brands

, they speak easily to children – "Hey, buy me"!
Yellow is very optimistic. This bright color is an attention grabber. I can think of Ikea, Denny's, and Best Buy.
Pink is very feminine and romantic. This is great if you are targeting a young female market
Black is powerful and dominating. This color speaks luxury to people. Hence, the black card.
Purple is calming, royal, and sophisticated. Think Crown Royal, Hallmark, and Welch's.
Orange is an aggressive color. It sticks out and says there is something important here. FireFox and Discover Card ring a bell.
Are you looking for a way to create your own color scheme? Check out Adobe Kuler, a fabulous color wheel of which you can mix and max colors to create the perfect one for you. Once you are done, it gives you the RGB and HEX color codes. Want to get more insight to branding and logo colors?
Image courtesy of by Luigi diamanti / FreeDigitalPhotos.net
Color Emotion Guide Infograph: http://thelogocompany.net/