Disclosure of Material Connection: I have not received any compensation for writing this post. I have no material connection to the brands, products, or services that I have mentioned. I am disclosing this in accordance with the Federal Trade Commission's 16 CFR, Part 255: "Guides Concerning the Use of Endorsements and Testimonials in Advertising."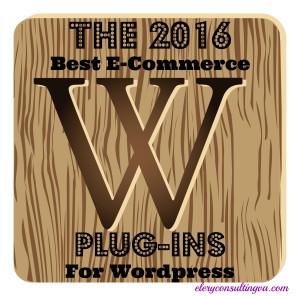 The WordPress content management platform makes it very simple to generate not only professional blogs but also high-quality online stores. With the ability to create a fantastic digital shop online, it's also extremely important that you are using the right plug-ins to make the process easier. Spending less time updating your shop and making sure that your shopping cart functions work 100% of the time is extremely important. Here are some of the finest e-commerce plug-ins available for WordPress in the year 2016.
Easy Digital Downloads (EDD)
This plug-in is one of the easiest ways that you can start selling digital downloads and files online at zero cost. If you are setting up an online service to sell your images, sell e-books, or to sell digital downloads of software, this plug-in is essential for your e-commerce store. Easy Digital Downloads (EDD) can be added with over 200 different themes and a powerful built-in analytics system that helps you track your earnings.
Ecwid
Rather than building a brand-new site for your online store, you can quickly integrate the Ecwid shopping cart system within your site in just a few minutes. If you plan on selling as just a small element of your WordPress page, and you want to have all of the same elements you could have from a full e-commerce theme, the tools available from Ecwid are ideal.
Ecwid comes with four different plans available to suit the type of business you are trying to set up. You can track and update your site from a mobile device. It even offers you the ability to sell directly from your smartphone.
WooCommerce
WooCommerce still stands as one of the most popular free e-commerce plug-ins for WordPress. WooCommerce has free and paid themes that you can use to start up a WordPress e-commerce website, and it features direct integration with PayPal. WooCommerce is so well-liked that it is used in approximately 30% of all e-commerce websites internationally.
Keep some of these top e-commerce plug-ins in mind if you are trying to start up your own WordPress e-commerce site. The features are great and offer many updates to provide a unique consumer experience.