Welcome to the New Year!
As a business owner or department manager, you may have felt your employees were not as accountable for their actions. As a good owner or manager, you may have felt responsible for a part of this as well. To be clear, accountability falls upon an individual. Everyone has a role to play and they need to make sure they carry their role out fully. They may need to ask more questions or simply step up more. Here are a few ways you can encourage your employees to be more accountable in 2014.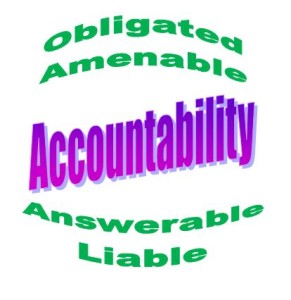 Get on board and have everyone act now
The first thing to do is be realistic. Take a step back and analyze how things went in 2013. If you set goals for everyone to reach, did you follow through with them to see why or why not they were achieved?
Have everyone give their input as to how they felt things went. They could give insight on the resources they needed to get the job done. There could have been a miscommunication on one part or another. Always let your employees know and feel you are there to help them achieve their goals.
Provide resources for continuing education
One key thing you will find most employees say is that they do not have the necessary training to perform their job. So they just sit back and do as little as possible to get by. They have no ambition to excel. If you have implemented new systems at work, how long was the training? Employees are all different. Some may prefer classroom training, others online individualized training, and then others would like hybrid classes.
Make sure everyone has the training necessary. Implement something unique to your employees such as a tip page on your company's Intranet page. This page could provide a daily useful tip on how to perform V-lookups, merge contacts, or change out of the office messages.
Develop departmental goals
Goals should be deeper than setting only departmental goals. Everyone should know what role they play and sit down in an individual meeting to review how they can accomplish their specific goals. It should not be overwhelming, especially if they must still get the hang of 2013's goals.
Integrate new CRMs and visual dashboards for all to see
You can put the pressure on with friendly department challenges while holding everyone accountable for their actions. Most CRM systems are easily integrable with other systems. If you can, have an up-to-date visual dashboard for all to see how everyone is doing. Be sure to exclude employees on vacation or on a sick leave as necessary. Use this as a tool to reach out to employees who seem to be lagging behind.
Let your employees hold you accountable to your goals
Finally, don't hold your employees accountable and have no goals for yourself. You are a part of the organization as well, so seeing your company grow by X dollars by Quarter 2 is not a goal for yourself. Your employees should be able to hold you accountable as well and see how you are doing. Even something as small as meeting with a department once a week, so employees can offer suggestions in person, can make a major difference in employee's attitudes.
Do you need help with employee surveys, creating electronic SOP's, or managing your CRM's? Contact Taya Elery Virtual Associate today to see what I can do for you.