Disclosure of Material Connection: I have not received any compensation for writing this post. I have no material connection to the brands, products, or services that I have mentioned. I am disclosing this in accordance with the Federal Trade Commission's 16 CFR, Part 255: "Guides Concerning the Use of Endorsements and Testimonials in Advertising."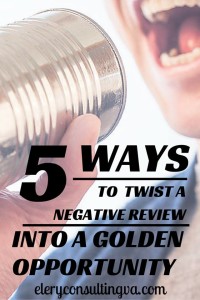 Has it come across your desk that you have a negative review of your business? Yikes, this is a scary thought. According to research of ZenDesk, "88% of consumers have been influenced by an online customer service review when making a buying decision." From negative consumer reviews to negative employee reviews, they can make you appear as though you don't care nor appreciate your consumers or employees. Don't fight back negatively; as the old saying goes, kill them with kindness! Read these five ways you can twist a negative review into a golden opportunity.
1. Respond to the Review
First off, you don't want to hide from the negative review. Respond as soon as you find out about it. Potential employees and customers will watch how you respond to positive and negative reviews. So be sure to respond in a polite manner, no matter if it's a disgruntled employee or angry customer review. By doing so, you prove how focused you are about their concerns and needs.
2. Approach the Situation Offline and Update the Outcome Online
Once you are aware of the negative review, you should initiate your response online, acknowledging the situation. Then, provide a direct contact means to the customer or employee. This shows you are taking accountability and want to rectify the matter if at all possible.
Now, once you have resolved the issue, ask if they can update their review reflecting how you resolved the situation. If this option does not exist, do so yourself, starting off by thanking them for working with you offline.  This shows any others looking at your review that you follow through on complaints and want things to be right.
3. Mixed Reviews of Your Company Look Credible
How many times have you seen a 100% positive review for a company and thought "This is too good to be true?" From restaurant reviews to product reviews, not everyone is totally happy with the business.
Every day, business pay reviewers to leave positive reviews on their profile. This is misleading and unethical. It destroys the trust between consumers and organizations.
Consumers are getting wise of this, and a Reevoo study shows that 68% of consumers are more willing to believe and trust reviews if they see positive and negative remarks.
So having these negative reviews makes your company appear credible. I'm sure you've looked up a few reviews for a recent hotel stay and saw how the staff was inattentive or the towels were not clean; yet you booked it anyway.
4. Free Opportunities for SEO
You can't argue this point at all: a negative review is a review, and it's getting you free marketing! The more your company's name is mentioned on Yelp, Google+, Facebook, Manta, or Twitter, the higher the ranking your business gets on Google. Do you think Google cares if it's positive or negative? No, they do not! You're getting ranked so that's why it's important to amend the review fast.
5. Learn From Your Competitors Mistakes
Finally, it's not just your company receiving negative reviews. Your competitors are getting them as well. So learn from their customers regarding why they are unhappy and ensure your company is doing better. You could offer that service they were looking for or improve your product to satisfy their needs.
The Bottom Line:
The bottom line is this, a negative review will not destroy you; it can only make your business stronger. That is, unless you do nothing about them. Check out these tips that Google and Yelp offer for responding to negative business reviews.